For those of you who don't know her, my friend, Regan Summers, is one of the most talented authors out there. Her writing is crisp and her ability to weave humor through a tale is unparalleled. So when she asked if I would mind participating with the cover reveal for the third book in her Night Runner series, FALLING FROM THE LIGHT, I immediately said, "GAH! GIMMEGIMMEGIMME!"*  
Side note: If you haven't read any of her stories, whether it be the Night Runner series or her short in the compilation, Carniepunk, I HIGHLY encourage you to do so.  
So now, without further ado, my I present unto you the cover for FALLING FROM THE LIGHT!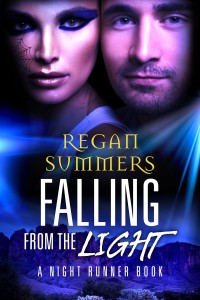 In case you're still on the fence about whether or not you should pick up her book (you should), here is a blurb about the story and some info on Regan.
Blurb:
Phoenix, AZ
All Sydney Kildare wants is a minute in the slow lane, some time to decide where she's going with her vampire lover, Malcolm Kelly. But after sitting out the last battle, the powerful Master Bronson is giving orders again, and he isn't above blackmailing his former courier to get what he wants.
With Mal sent to track a vicious killer, Syd is forced to infiltrate a pharmaceutical company responsible for a drug that turns vampires into real monsters. She's unprepared and alone, but fiercely determined. If her investigation doesn't satisfy the Master, Malcolm will pay the price. A wrong turn throws her into the middle of a vampire power play. Caught between twisting forces, with their freedom at stake, she'll have to decide what's more important: love, power or revenge. But choosing what feels right might turn out all wrong.
94,000 words
About the Author:
Regan Summers is the author of the romantic urban fantasy Night Runner series. As a native Alaskan, she's used to long, cold nights but thinks they're better with a helping of sexy vampires. Don't Bite the Messenger, the first in the series, was a finalist for the 2013 EPIC eBook Awards in the paranormal category.
Author web links: (web, blog, twitter, facebook, goodreads, etc):
Website: http://regansummers.com/
Twitter: https://twitter.com/Regan_Summers
Goodreads: https://www.goodreads.com/author/show/5350866.Regan_Summers
Facebook: https://www.facebook.com/ReganSummersAuthor
Newsletter: http://eepurl.com/6nFaH
FINAL THOUGHT: I can't say enough good things about Regan, both as an author and as a person. She's one of the first people who welcomed me to the Cantina at Absolute Write, beta read both of Marcus' books in their infancy, and provided some much needed peer-based support when I began the long road to publishing. Helping her get the word out on her latest book, and already pre-ordering it by the time this post goes live, are the least I can do to return the kindness she's showed over the years. And I'd greatly appreciate you all join me in supporting her.  
*actual conversation may or may not have included more ALL CAPS.