I've long been a fan of Abner Senires and his online Cyberpunk serial, KAT AND MOUSE. So when I heard that Season Two of my favorite girls was coming out, it was a no-brainer to have him on the blog to talk about the ladies. So without further ado, let me turn this over to him.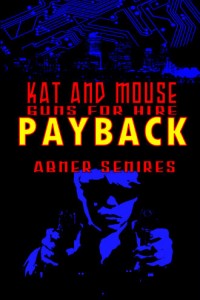 Before I start, I'd like to thank Josh for hosting me today for this stop on the KAT AND MOUSE SEASON TWO book blog tour. Josh has been huge supporter of Kat and Mouse and their adventures so I'm honored to be here today.
Now, on to our topic…
Meeting She Who Kicks Ass
One summer day, when I was about 10 or 11, I was eating lunch in front of the TV, flipping channels, looking for something to watch. Usually I'd be tuned to our local PBS station at about that time of the day watching Reading Rainbow or The Book Bird (aka Cover to Cover and Readit) but I wasn't. Instead I was surfing, seeing if anything caught my eye. Most of what appeared were game shows or soap operas so I kept channel surfing.
And then I came across some sort of cartoon. It was Japanese animation with English dialogue. But it didn't look like Star Blazers or Battle of the Planets. Besides, those wouldn't be on until later that afternoon.
What I saw was an action sequence featuring a blond girl wearing an over-sized blue tunic winging her way through the sky on some sort of glider and being pursued by a gigantic bulbous airship.
I was transfixed.
Unfortunately, I only caught a portion of it because I got called away to the kitchen to help out my grandparents and missed the rest of that cartoon.
I ran across the same cartoon again a year later when I saw the same blond girl, this time inside what looked to be a castle chamber, surrounded by armored assailants. I watched, in rapt attention, as she snatched up a walking stick, did short work of one assailant, then another, then leap backwards to avoid a slashing sword, scoop up a sword of her own, and charge her attacker.
This time, I saw the full sequence and the rest of the cartoon that followed.
The cartoon was a movie called Warriors of the Wind.
And it introduced me to someone I call She Who Kicks Ass.
She Who Kicks Ass burned herself into my brain and, as I got older, She made herself known to me in other incarnations. I saw her again as Miriya Parina in Robotech; as Ripley and Vasquez in Aliens; as Sarah Connor in Terminator 2; as Kei and Yuri in Dirty Pair; as Rally and Minnie-May in Gunsmith Cats; as Buffy in the Buffy TV series; and as Xena and Gabrielle in Xena: Warrior Princess, to name a few
She also manifested Herself to me in fiction: Hazel Stone from The Cat Who Walks Through Walls; Polgara, Ce'Nedra, and Liselle from The Belgariad and The Mallorean; Ky Vatta from the Vatta's War novels; Honor Harrington from the Honor Harrington novels; and Harper Blaine from the Greywalker series, again, to name a few.
But it began with that initial incarnation of She Who Kicks Ass, who later turned out to be Nausicaa, the heroine of the classic anime Nausicaa and the Valley of the Wind.
It began with her.
Had it not been for Nausicaa (Princess Xandra in Warriors of the Wind), I never would have written Kat and Mouse.
Nausicaa's inner strength, resolve, tenacity, and willingness and ability to duke it out when necessary inspired me to subconsciously seek out other characters like her.
Thanks to her and because of her, I've been a long-time admirer–and now a writer–of the female action hero.
Why the female action hero?
Because she's strong and tough, smart and resourceful. Because she acts and doesn't wait to be rescued. Because she can still be a woman when she wants to be.
And frankly there've been enough male action heroes.
Time to give women the chance to be counted alongside them.
Now if you'll excuse me, I have to get back to Kat and Mouse.
They're about to kick some ass.
AUTHOR BIO
Abner Senires writes sci-fi pulp adventure and probably drinks far too much coffee. He lives just outside Seattle, WA with his wife and a pair of rambunctious cats.
WEBSITE: www.AbnerSenires.com
BLOG: blog.AbnerSenires.com
TWITTER: @abnersenires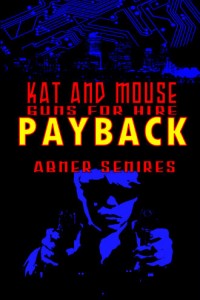 KAT AND MOUSE, GUNS FOR HIRE: PAYBACK
Things are heating up for near-future female mercenaries Kat and Mouse as they tackle even more hair-raising jobs for shadowy clients and run afoul of terrorists, freedom fighters, hired assassins, a Japanese crime syndicate, and warring punkergangs. And smack in the middle of this, an enemy from the past is back and wants revenge on the duo.
Now these two sassy sisters-in-arms must fight back and survive…and still get their jobs done.
Available from:
Kindle
Smashwords/epub